Creating nice apps anywhere, everywhere
Italo Brito Brasil - Fullstack Developer with more then 10 years working with web technologies and many systems and apps in Brazil. Design Thinker and Leader of IxDA Teresina, BeerJS & @21Unicorns.
Description If you're a web developer who has been itching to get into native development, now is your chance. In this series we'll be talking all about React Native and Node.js. React Native allows you to build native iOS and Android applications in JavaScript, and React.js. Node.js allows you to create servers to communicate with your app to provide a better experience inside the app.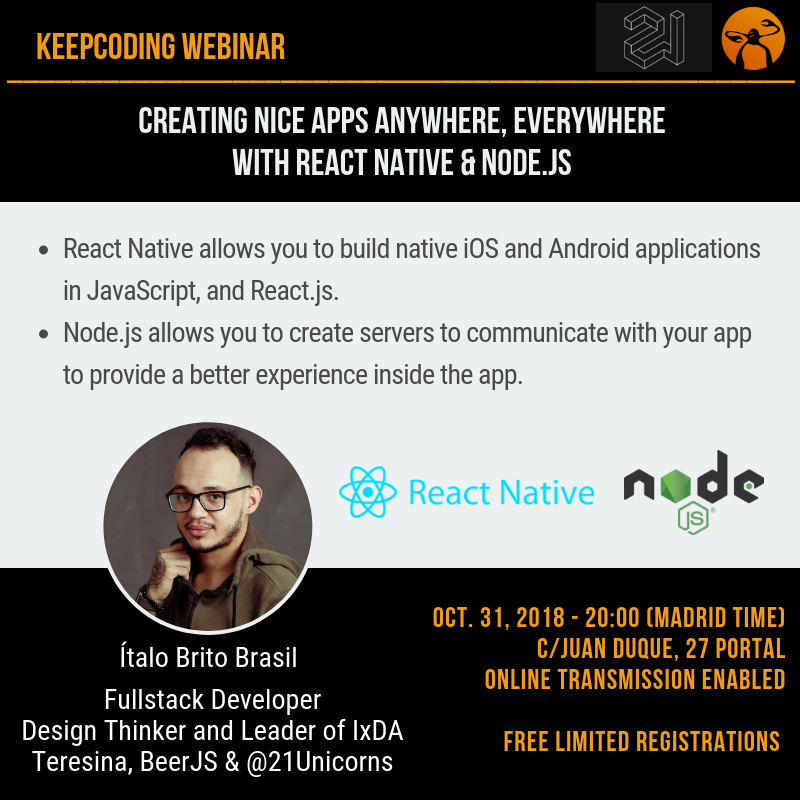 Con nuestros webinars y mini cursos podrás...
Forma parte de la experiencia KeepCoding. Interactúa con algunos de nuestros instructores expertos y Full Stack Developers como tu.
Podrás conocer todos los detalles de las tecnologías de vanguardia en el desarrollo web y móvil, así como tecnologías relacionadas a Big Data & Machine Learning y temas actuales de interés como Virtual Reality & Augmented Reality, Blockchain, Criptomonedas, Ciberseguridad, Deep Learning, Chatbots y mucho más.
Si te pierdes la emisión, puedes ver la emisión en diferido ¡cuantas veces quieras!
Los nuestros son webinars prácticos donde podrás realizar ejemplos con código, comentar, preguntar y esclarecer tus dudas durante la sesión.
¡Bienvenido a KeepCoding!